Saturday, I hibernated. I woke up around 7 pm. I prepared the movies and some midnight snacks.

On the list:
City of Angels

God's Not Dead
Mark

: You prayed and believed your whole life. Never done anything wrong. And here you are. You're the nicest person I know. I am the meanest. You have dementia. My life is perfect. Explain that to me!
Mina's Mother

: Sometimes the devil allows people to live a life free of trouble because he doesn't want them turning to God. Their sin is like a jail cell, except it is all nice and comfy and there doesn't seem to be any reason to leave. The door's wide open. Till one day, time runs out, and the cell door slams shut, and suddenly it's too late.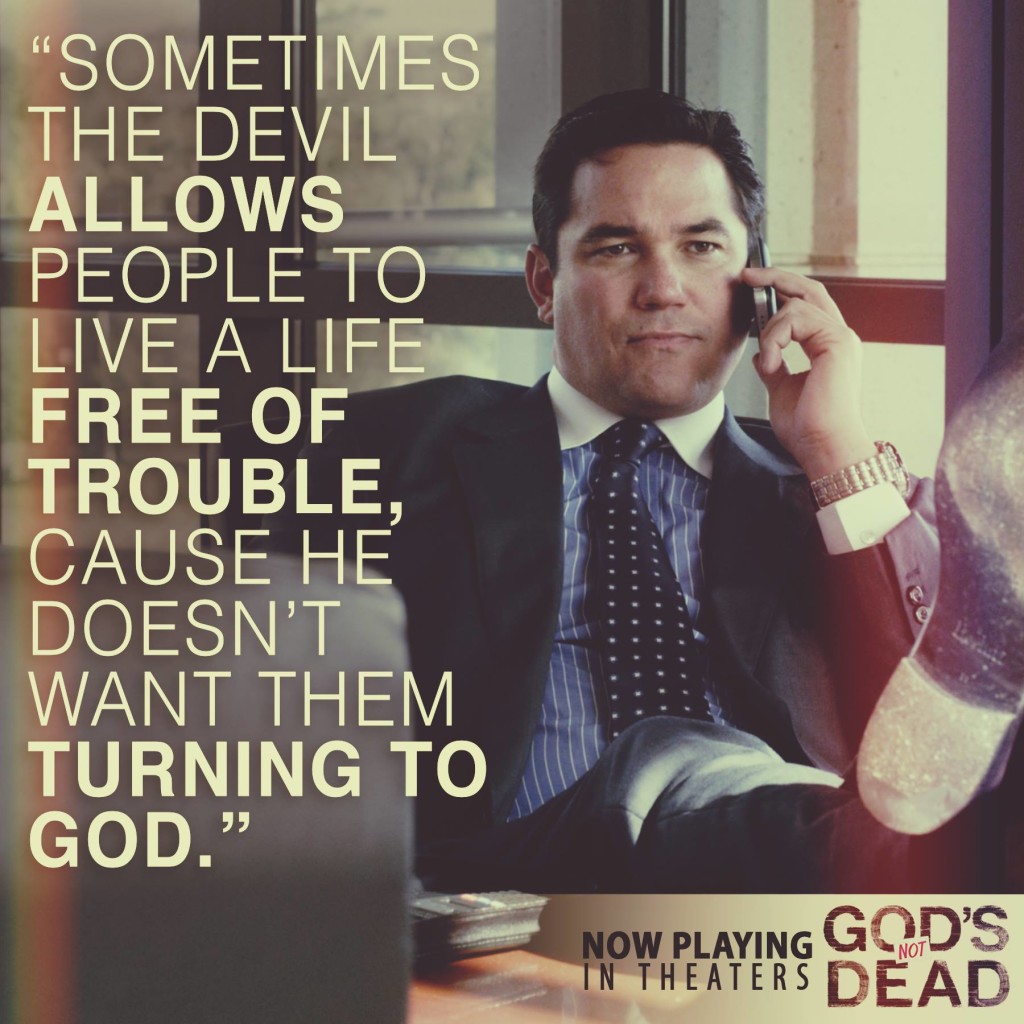 Old Fashioned
Amber
: Maybe love doesn't have to be perfect, just to be worth it.
Courageous
Adam Mitchell
: ...I now believe that God desires for EVERY father to courageously step up and do whatever it takes to be involved in the lives of his children. But more than just being there providing for them, he is to walk with them through their young lives and be a visual representation of the character of God, their father in heaven. A father should love his children, and seek to win their hearts. He should protect them, discipline them, and teach them about God. He should model how to walk with integrity and treat others with respect, and should call out his children to become responsible men and women, who live their lives for what matters in eternity. Some men will hear this, and mock it. Or ignore it. But I tell you that as a father, you are accountable to God for the position of influence he has given you. You can't fall asleep at the wheel, only to wake up one day and realize that your job or your hobbies have no eternal value, but the souls of your children do. Some men will hear this and agree with it, but have no resolve to live it out. Instead, they will live for themselves, and waste the opportunity to leave a godly legacy for the next generation. But there are some men, who regardless of the mistakes we've made in the past, regardless of what our fathers did NOT do for us, will give the strength of our arms and the rest of our days to loving God with all that we are and to teach our children to do the same. And whenever possible to love and mentor others who have no father in their lives, but who desperately need help and direction. And we are inviting any man whose heart is willing and courageous, to join us in this resolution. In my home, the decision has already been made. You don't have to ask who will guide my family, because by God's grace, I will. You don't have to ask who will teach my son to follow Christ, because I will. Who will accept the responsibility of providing and protecting my family? I will. Who will ask God to break the chain of destructive patterns in my family's history? I will. Who will pray for, and bless my children to boldly pursue whatever God calls them to do? I am their father. I will. I accept this responsibility and it is my privilege to embrace it. I want the favor of God and his blessing on my home. Any good man does. So where are you men of courage? Where are you, fathers who fear the Lord? It's time to rise up and answer the call that God has given to you and to say I will. I will. I will!

I highly recommend those movies. Fathers, you must watch Courageous!

I was telling Duz last night that he should filter what movies he watches. Dati kasi puro horror movies pinapanood nila ni Chloe. I didn't like it. I don't watch horror films. Nabo-bother kasi ako. Almost a week akong hindi nakakatulog ng mabuti. It doesn't benefit me any good. I took over movies we watch every weekend. I plan them. I schedule them.
All of us need to remember this lesson as we decide which TV shows and movies to watch, which books to read, which songs to listen to, and what to do on the Internet.
It's not possible for us to avoid all the evil that is in the world. But we can avoid evil in many respects, including TV, movies, the Internet, video games, books, magazines, and music.

Sunday morning, I've done my regular routine: general cleaning and laundry.

I posted this on the wall and Duz saw it.

I told him that when we were young, I remember seeing my mom praying for us in the wee hours. She would lay her hands on our heads down to our feet. I want to do the same with my kids.

Thursday, it was my first time to make coffee jelly. We weren't able to enjoy it because it was for our team lunch. I promised Chloe that I'll make another round this weekend.
So I turned these into...
We enjoyed every bit of it.

We went to Victory - Nova at 5pm. Medyo na-late kame so di na kame nakaupo.

It was the last leg of the series called: Thank God It's Monday.

More about it here.
Monday before 4am, I was wide awake. Duz and I had a meaningful conversation while having cofee and pandesal. We watched "The Book of Esther"
I loved the movie! Ladies, it's a must watch film.
How do you want to be remembered? As a woman with material things and only outer beauty?
I want to be remembered as a woman who has Godly and teachable spirit that shows great courage, wisdom, strength and willingness to obey and submit. I pray that God will keep me humble and respectful even in the most difficult circumstances.
Charm is deceptive and beauty is fleeting but the woman who fears the Lord is to be praised. Proverbs 31:30

P.S. If you are unsure what movies to watch, check Pure Flix.

Pure Flix Entertainment is a Christian film production company. It produces, distributes, acquires and markets Christian and family-friendly films. via

Check its YouTube page.

Have a great week ahead.

Stay blessed.